Communist Party of Turkey (TKP) organizes a mass gathering, calling the working people of Turkey to voice their demands against the tyranny of bosses, sects, and mafia. The slogan of the meeting, which will take place on Saturday, June 19 at 16:00 in Ankara Anıtpark, will be "We will tear this darkness apart".
The call to the meeting invites everyone who wants to establish an independent, secular, equal, free, and fair country. "Those who called for patience to the public during the epidemic increased their wealth with the privileges they provided to the bosses. Life became more expensive, poverty increased. Secularism is no longer a major issue. Freedoms were restricted, the ban on politics turned into ordinary practice. They created such a Turkey. Now they are trying to convince the people that all these are natural rules. But it will not happen! The people will not let this happen!", TKP stated in its call.
TKP members and their friends continue to work hard to reach this call to more people. TKP continues to distribute leaflets in neighborhoods and city centers. TKP neighborhood houses, workplace committees, and women's solidarity committees in various places disseminate this call by meeting with many people.
Before the big meeting, TKP held many events and meetings titled "We want an order without sects, mafia, bosses" in many cities and districts. Emphasizing the importance of being organized to achieve an equal order, the meetings called for the Ankara Meeting to be held on Saturday, June 19th.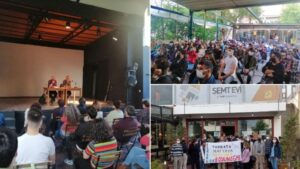 Turkey's communists also gathered in Istanbul on June 5 to make a public statement against the tyranny of the bosses, sects, and mafia in Turkey. Although the district governor announced a ban on the press release, the TKP members and friends took to the streets to voice their protests.