TKP hosted a delegation from Communist Party Of Greece (KKE), consisting of Central Committee and Political Bureau member Giorgos Marinos, Central Committee member and Head of International Relations Section Elisaios Vagenas, interpreter and cadre of KKE International Relations Section Athina Zarkada.
Besides the bilateral meetings on further cooperation in the international sphere between two parties, which have fraternal relations for several years, the KKE delegation had a chance to visit TKP Torbalı District House and to meet with workers in TKP Çiğli Workers' House at a gathering on TKP's policies and activities regarding the upcoming parliamentary and presidential elections in Turkey.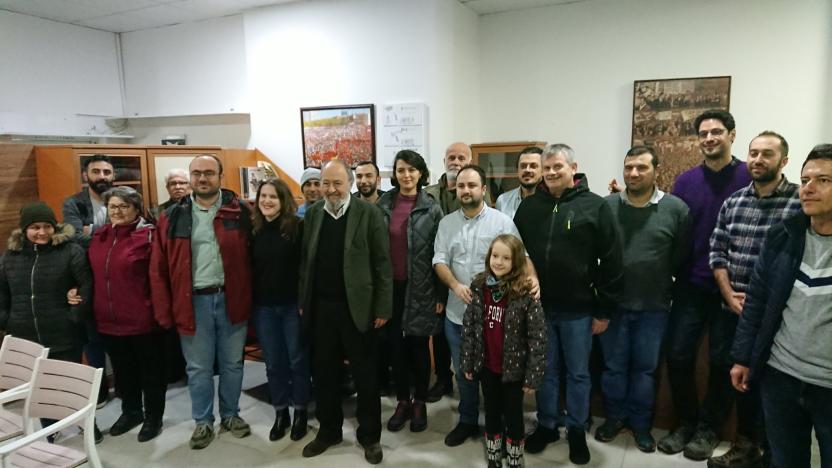 Giorgos Marinos had a speech in the meeting and greeted the workers in the name of the KKE. Marinos saluted the struggle of TKP in Turkey against the capitalist system and had an emphasis on the critical importance of the experience accumulated by the TKP's workers' houses. He underlined the contribution of the workers' houses to the class struggle in Turkey as being the places where the workers actively participate to find out solutions to the problems they are facing. He also expressed the outstanding results of the joint struggle of TKP and KKE so far.
TKP General Secretary Kemal Okuyan began his words expressing the meaning of such a meeting in this period of time and referring to the Greek communists who stood against the imperialist occupation of the Anatolia. He emphasized that the joint struggle of the working class of two countries is the only force to end nationalism and warmongering. Okuyan declared that the position of TKP is so clear in case of a such potential development in the region, which is standing against it, while ensuring the fraternity of the working people of two neighboring countries.
While evaluating the political atmosphere in Turkey as the elections approaches, Okuyan mentioned the Syriza experience in Greece. He told that TKP had had an ideological and political struggle against the false hopes spread by the system as if there had been a revolution in Greece by the Syriza government. He also reminded the heavy burden of this period on living conditions of the working people of Greece, which finalized by handing over the government to a right-wing party.
Okuyan further detailed TKP's position in the upcoming elections in Turkey and ended his speech with the following: "We are claiming aloud that we will overthrow capitalism. We will overthrow it and found a socialist country. We will not avoid saying this. We have to spread this word. We have to organize and pose the anger of the working people towards overthrowing this system and building a socialist one."