Turkey's communists called for a mass gathering in Istanbul last week to protest the tyranny of the bosses, sects, and mafia in Turkey. Although the district governor announced a ban on the press release, the TKP members and friends took to the streets on Saturday, June 5 to voice their protests.
Participants in the press release chanted slogans saying "We want a country without sects, without bosses, without mafia", "An enlightened country, a socialist Turkey", "Do not surrender, protect the country".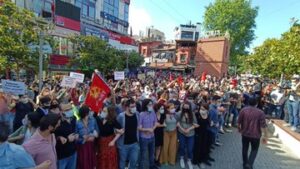 On behalf of TKP Istanbul Senem Doruk İnam made the press release, saying that "The reason for the ban is the content of the press release. In other words, it makes them uncomfortable that we are against sects and mafia. Our meeting has been banned because we want an order without sects, mafia, or bosses. We declare here, sects will be banned and we will establish a country without exploitation."
Özgür Murat Büyük, TKP lawyer, had made a statement for soL news saying that this ban has no equivalent in the Constitution and the laws and the decision of the governor's office is null and void.