The 99th-anniversary event in Antalya where TKP members and friends came together with the slogan "We are ready" took place on September 22.
Nazlı Ece from the Antalya provincial committee of TKP made the opening speech. "We know that the exploitation will not come to an end unless this social order changes," she said, adding that the Antalya municipality governed by the opposition party CHP is not an alternative for the people against the ruling AKP. Ece reminded that the Antalya municipality has increased water and transportation bills in the city.
Ece said that the current CHP municipality forces the working people of Antalya to pay the former AKP municipality's debts. "Such basic needs as free water, transportation and housing are only possible under socialism," she noted.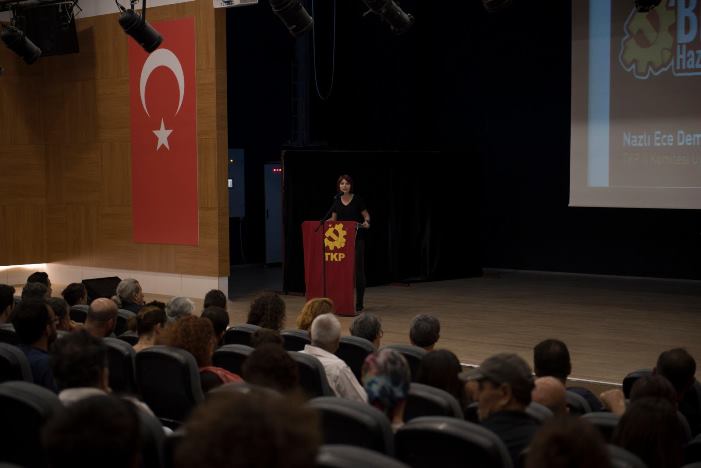 Indicating to heavy working conditions in the service sector in Antalya considering that the city is one of the leading tourism destinations of Turkey, Ece said that tourism workers are employed seasonally without the right to compensations. Ece also called on teachers to gather at an event that will be held on September 29 to discuss the problems of private school teachers in Antalya. She underlined that TKP will launch new district houses around the city.
"WE ARE READY AFTER 100 YEARS"
Following the opening speech, Alpaslan Savaş, the CC member of TKP, addressed the participators, saying that the founding goals and principles of TKP in 1920 are still prevalent today. "We have a deep-rooted history in this country," he said.
"We have had some mistakes in 99 years; of course, we take lessons from these mistakes. However, we will never let our truths be turned upside down while trying to take lessons from these mistakes," Savaş said, adding that TKP will never make a choice between reactionary and capitalist forces whether they are in power or in opposition.
Savaş said that TKP members are not nationalists but patriots, and the communists defend the fraternity of peoples with internationalist sentiments as they are struggling for the emancipation of all peoples around the world.
Savaş indicated to some prominent examples from the history of TKP and struggle for socialism in Turkey. Commemorating the founding leaders of TKP, Mustafa Suphi and his comrades who had been killed in 1920, Savaş said that the past is not just nostalgia, underlining that the best way of the commemoration is to link the past with today's struggle and the future with the aim of building socialism.
Savaş concluded that TKP trusts its historical legitimacy on the road to socialism as the capitalist order is collapsing, calling on the people to organize under the party.
Many people attended the ranks of TKP at the end of the event.​