During the past week, which was dedicated to fostering solidarity and cooperation between TKP and PCTE, several visits to Eskişehir, Ankara and İstanbul were made. PCTE delegation met with TKP General Secretary and Central Committee members for bilaterals, and made observations at some of the District Houses of TKP, which are now more than a hundred all around the country.
"strengthen the TKP, strengthen yourselves"
PCTE delegation, formed by Ástor García, the General Secretary of the Party, Marina Gómez, Political Bureau Member and Responsible for International Relations, and Javier Martín, Political Bureau Member and Responsible for Publications, started their visit with their participation at the electoral meeting of TKP in Eskişehir.
PCTE General Secretary Ástor García also took the floor at the electoral meeting of TKP, as part of the electoral campaign, bearing the slogan "TKP Comes, Everything Changes", and targeting the presidential and parliamentary elections expected to take place on May 14th, 2023. García emphasized the reasons behind the need for the change of the existing social order, while citing from communist poet Nâzım Hikmet. García appealed to the workers of Turkey to strengthen TKP:
Everything needs to change, for this the TKP needs to be stronger, because it is the party of
those who create wealth with their work, the party of the exploited, the party of the majority,
the party of those who love the truth and the party of the working class of Turkey.
For this reason, I humbly say to you: strengthen the TKP, strengthen yourselves.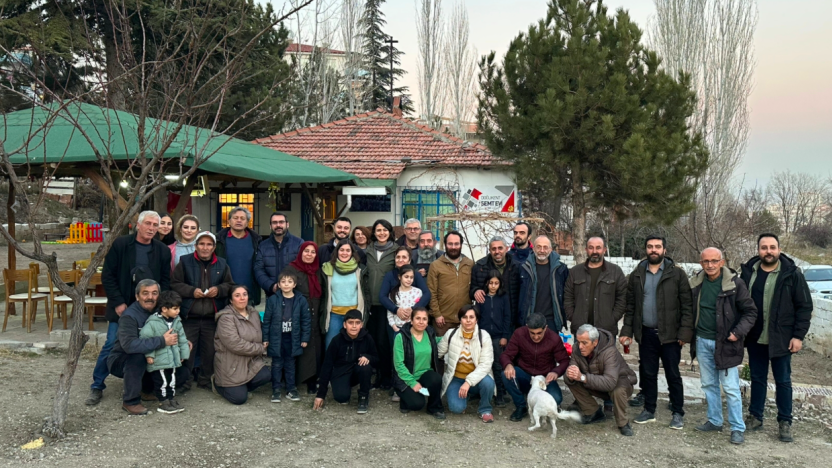 "Our great aspirations are realized here"
Throughout the week, visit to District Houses at Eskişehir Vişnelik, Ankara Doğukent, İstanbul Beyoğlu, İstanbul Selimiye, and Workers' Houses at İstanbul Dudullu and Kocaeli Gebze were organized. The visits served for a detailed observation by PCTE of the foundational dynamics of district houses, their role in the organization and solidarity among workers, the fields they wage their struggles and their achievements.
Upon their exchange of opinions with local branches of TKP, PCTE delegation commented that the experience at district houses entailed many elements that might illuminate the struggle in Spain. General Secretary García pointed that the examples set at the workers' and district houses indicate that "we are on the right way", and that "our great aspirations are realized here".
"The outcomes of our friendship and solidarity will reach broader masses"
The visit, having contributed to the strengthening of friendship and solidarity between the two working class parties struggling in different countries, has ended with a number of decisions to expand and deepen the areas of cooperation between the parties. The concrete outcomes of joint struggle and production in many areas, such as press and media, women's struggle, international solidarity, strengthening the ideological and political references of the working class struggle, and educational activities, will be more visible in the coming period.