The Communist Youth of Turkey (TKG) issued a statement on May 6 and said, "We are continuing to take the path that the youth took out of Deniz and his comrades further: we are marching to the NATO base in Incirlik on May 15th!".
After this call, members of the Communist Youth of Turkey and their friends who studied in different cities of Turkey met today in Incirlik, Adana.
TKG members who traveled by buses to an area close to Incirlik Base protested against NATO and US imperialism by shouting slogans here. TKG members who wanted to march to Incirlik Base were blocked by riot police.
Communist youth who came to Incirlik with the banner "Away with NATO, this country is ours" shouted the slogans "Do not surrender, protect the country", "Youth will come, socialism will come", "This country, this people is not for sale".
A press release was read on behalf of the Communist Youth of Turkey, which protested against NATO and US imperialism with slogans and speeches made here.

'We will confiscate the Incirlik Base, we promise'
In the press release they said: "No looting, we will expel NATO from this land. No looting, we will confiscate this Incirlik Base you see. As the Communist Youth of Turkey, we promise!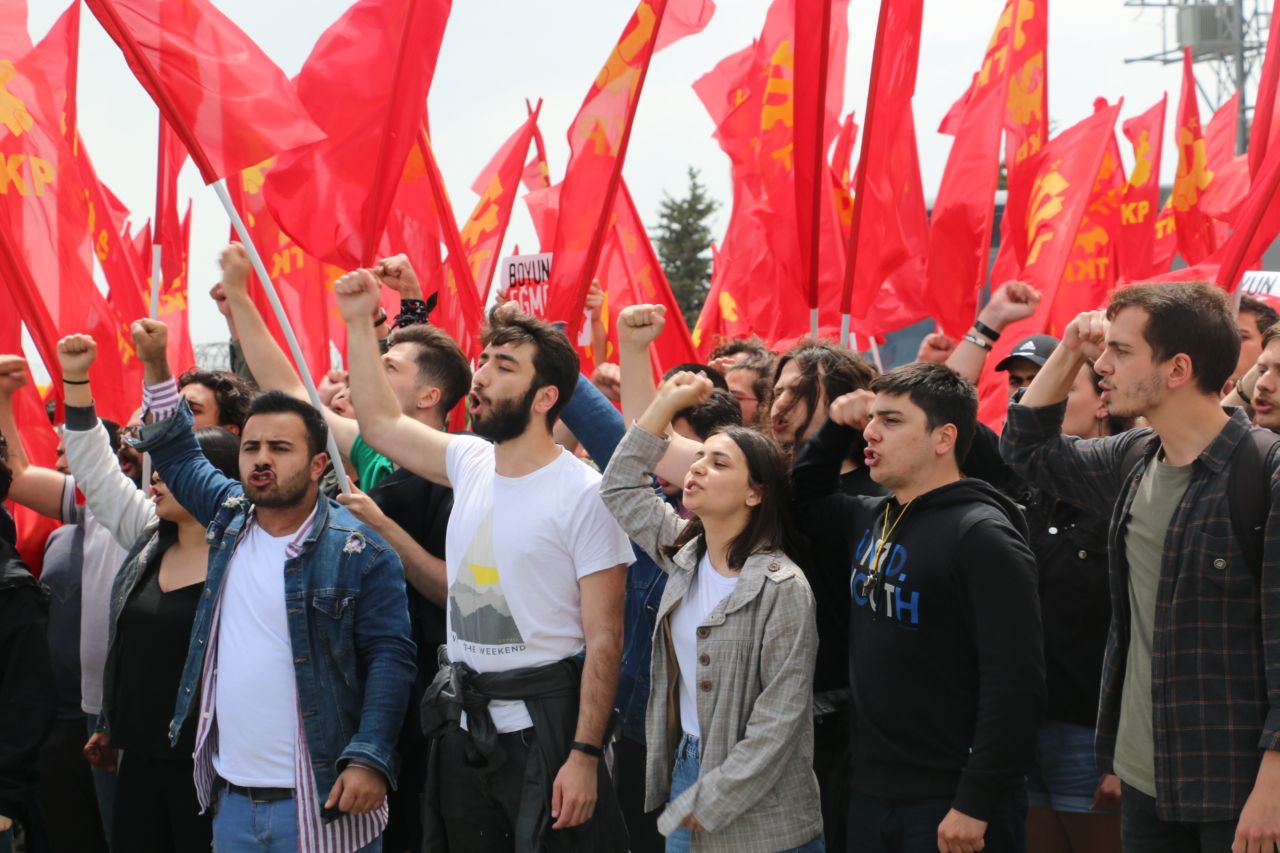 The following statement was read by a TKG member from Çukurova University:
"Founded in 1949 under the leadership of US imperialism against the struggle of the working classes for equality and freedom, NATO continues to pose a great threat to the working people of the world from the past to the present. Despite the rise of the prestige of the Soviet Union and the expansion of its sphere of influence with World War II, US imperialism found the solution in leading the establishment of NATO, a counter-revolutionary terrorist organization.
After the collapse of the Soviet Union, NATO's main task, which continued its greedy policies, was to organize day-to-day imperialism, anticommunism and suppress labor movements regardless of the existence of the Soviets. Turkey was made a member of NATO in 1952 by the right-wing Menderes government, and since then, NATO has been behind all the country's suffering. The murder of our most valuable intellectuals by assassinations, the destruction of citizens and neighborhoods by massacres took place by the hands of NATO's secret operations. The cost of this membership was to send troops to Korea for 23 cents per day. Yes, you didn't hear wrong. It was a gift in return for our soldiers that we sent for 23 cents a day, membership to NATO.
We are here today to tear up this dirty bargain. Today, we are here to put a stop to imperialism and its policies, which is led by especially the United States. We came here today not to call to pass the sponge over, but to call for an account. We will bring the book for the counter-guerrilla organizations established by NATO in our country. Friends, no political murder or coup committed in our country can be considered independent of NATO. We have not forgotten, we will not forget, that a US official said 'our guys have succeeded' before the coup of '80 was announced in our country. Today, we are here to ask for an account of the political murders committed, the unsolved cases of murder, the coup of September 12, 1980.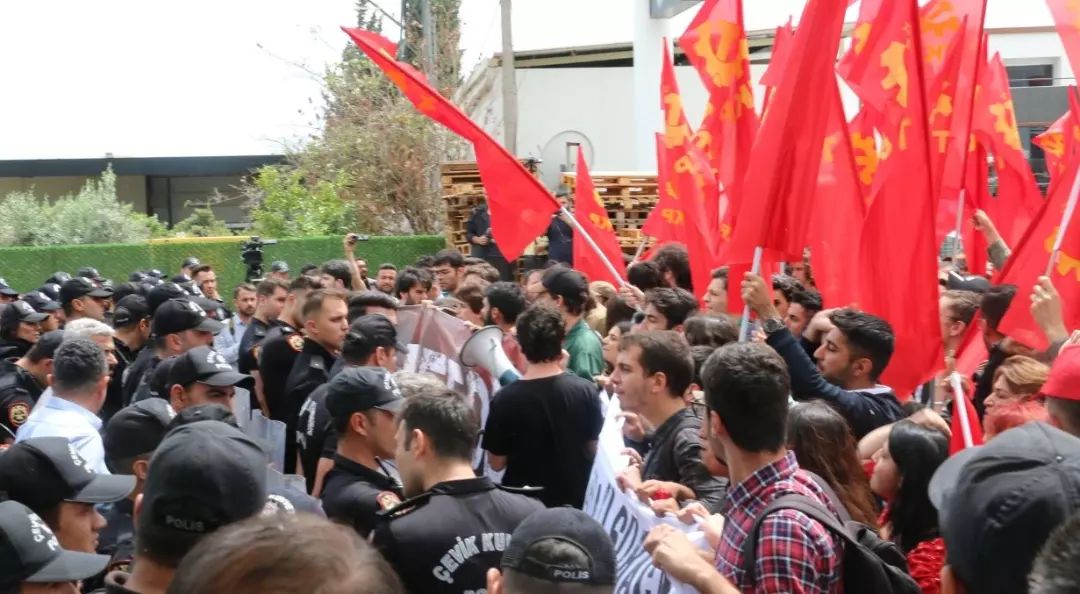 It is no coincidence that people who have risen to the level of general staff in this country have been trained by the hands of NATO and have served in NATO. As patriots and communists of this country, we are here to say get out of NATO, a counter-revolutionary and anticommunist terrorist organization.
But if NATO, which has caused so much pain on behalf of the working class of Turkey in our past, continues to remain on this territory, can we look forward to the future on behalf of our country with hope? Friends, if we look at the world map after the collapse of the Soviet Union, we will see better the work of an organization called NATO and understand how it is hostile and disruptive to peoples. Therefore, NATO means the disintegration of countries, to play the peoples against to each other. NATO means the surrender of sovereignty. The Turkish capital class has surrendered even this sovereignty to the will with an anticommunist hysteria. And today it is our duty to get it back.
NATO is not doing anything different today. It is interfering in the internal affairs of countries again, plotting coups and raining bombs on peoples. Look at NATO and you will see Yugoslavia, you will see Syria, you will see September 12, 1980. Look at NATO, you'll see Iraq, you'll see Latin America, you'll see Chile. To expel NATO from this territory means not to make our country a partner in these crimes. There is no looting, NATO will get out of this land, and an independent Turkey will live fraternally with the peoples of the region and the world.
They said a lot, the rulers, the capital class and their spokesmen tried to shine a lot. It was proclaimed as guardian of democracy. There have been those who have called it a guarantee of our security. But they could not provide legitimacy. They could not hide the fact that NATO is a bloody terrorist organization. You ask why? Because if you forget about the revolutionary youth of this country, you will find yourself at sea. Yes, The day when the 6th Fleet was thrown in the sea is one of the most honorable days of the revolutionary struggle in Turkey. That's the struggle going on. Here is the flag that we took from Deniz Gezmiş and his comrades that we are raising here today, in front of the Incirlik Base. As the Communist Youth of Turkey, we promise to them: We will complete their unfinished struggle. We're gonna finish this. We will kick out NATO and found an independent, socialist Turkey.
Friends, of course, all this does not happen spontaneously. There is a capital class and a power that sells our country's factories, destroys forests, takes on active roles in the region and in the world, especially in Syria, and increases our country's dependence every day. Therefore, this struggle cannot be carried out without having a class character. To oppose imperialism and to repel its military power, NATO, from these lands means to put an end to the power of the Turkish capital class. Without one, the other is unthinkable. The fight against NATO is a fight for labor, for bread, for freedom and for a sovereign Turkey.
NWe will expel NATO from this land. We will confiscate this Incirlik Base. As the Communist Youth of Turkey, we promise: We will found Independent and Socialist Turkey."